What is the Fit For Life Program?
The Fit For Life Program (FFL) is not like any other program you've tried before. The 12 week program is designed specifically for Dads who want to reach their full potential as fathers and men. For some Dads FFL has served as a reset to break out of bad routines, for others it's helped them get the most out of an already productive life. So how do we do it? By focusing on three core principals: Fitness, Family, and Fraternity tailored specifically for Dads.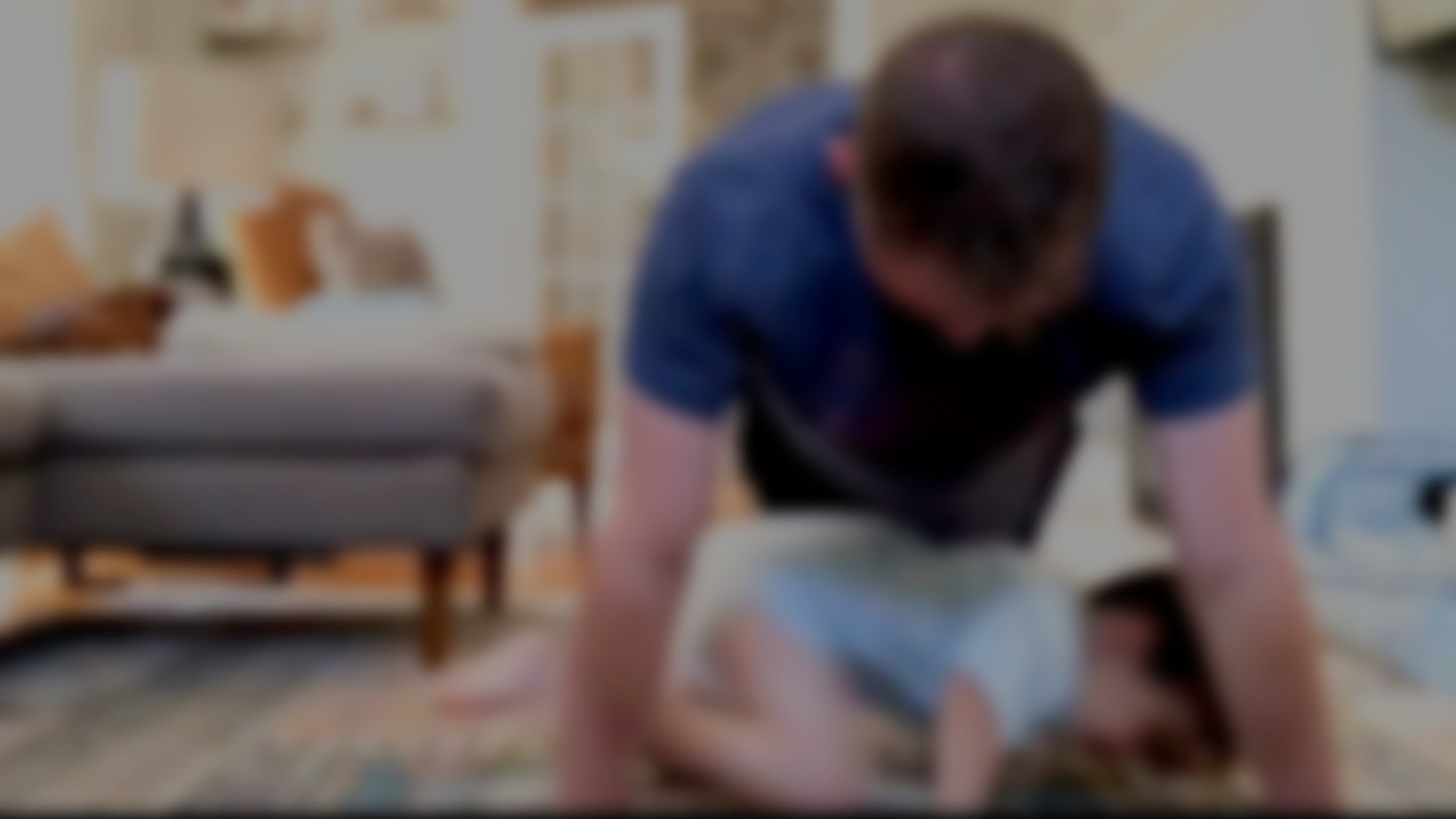 You've probably seen the ads promising to get you shredded in 30 days…
THIS IS NOT THAT PROGRAM.
These ads promise 6-pack abs, while you're just thinking about how sore your back is when your kid asks you to pick them up. We get it. Dads have a lot of responsibilities, so spending an hour at the gym probably isn't going to happen. FFL isn't a quick fix, it's a sustainable lifestyle change that will help you become more active in your everyday life.
We address all aspects of Fitness!
That means mind and body. ffl will help you become mentally and physically fit and we'll show you how both are tied together. In this program you'll get:
(3) ONE-MONTH LONG WORKOUT PROGRAMS
EACH ROUTINE:
IS 20 MINUTES OR LESS

INCLUDES VIDEO DEMONSTRATIONS FROM A CERTIFIED PERSONAL TRAINER

CAN BE DONE IN YOUR LIVING ROOM WITHOUT ANY EQUIPMENT

IS SCALABLE FOR ANY FITNESS LEVEL

IS KID FRIENDLY (AS YOU CAN SEE FROM THE PICTURES)
NUTRITIONAL GUIDANCE
STICKING TO A RIGID MEAL PLAN IS IMPOSSIBLE FOR A BUSY DAD. THAT'S WHY WE TEACH A FLEXIBLE APPROACH THAT HELPS YOU NAVIGATE ANY RESTAURANT MENU OR REFRIGERATOR. EACH WEEK WE FOCUS ON ONE HABIT CHANGE THAT MAKES ACCOMPLISHING EACH GOAL AS EASY AS DRINKING A GLASS OF WATER.
GO-TO RECIPES
PERFECT FOR THOSE NIGHTS YOU WANT TO SHOW OFF YOUR BEST IRON CHEF… EVEN IF YOUR SKILL SET IS MORE LIKE CHEF BOYARDEE.
A ROAD MAP TO mindfulness
WEEKLY READINGS COVERING TOPICS INCLUDING:

THE RELATIONSHIP BETWEEN POSTURE AND CONFIDENCE (ESPECIALLY IMPORTANT FOR DADS WITH DAUGHTERS!)

THE IMPORTANCE OF TREATING TIME LIKE MONEY

HOW TO SET AND ACCOMPLISH MAJOR LIFE GOALS

AND SO MUCH MORE!

TECHNIQUES FOR DEALING WITH STRESS AND ANXIETY

TIME MANAGEMENT TIPS TO HELP PRIORITIZE AND ORGANIZE THE BUSIEST LIVES
Feeling guilty about taking care of yourself?
You don't have to any more! On an airplane there's a reason that they tell you to you to put your mask on first in the event of an emergency: you can't take care of anyone else if you don't take care of yourself. Your family will thank you for it.
FFL is designed for dads, but meant for the whole family.
During the 12-week program you'll learn how to incorporate an active and healthy lifestyle into your family routines.
You won't just talk about being a role model for your kids, you'll act it out.

You'll make time to play with your kids.

You'll find more patience to deal with the stress of fatherhood and life.

You'll learn how to bring sex and romance back into your life.
FIND THE ACCOUNTABILITY AND SUPPORT YOU'VE BEEN LOOKING FOR FROM A GROUP OF LIKE-MINDED DADS!
When you sign up for FFL you'll get:
Access to a private Facebook group with other Dads going through the program

Because it's a community of like-minded individuals with a growth mindset you don't have to worry about judgment. It's a great place to pose questions, seek feedback, and get ideas for the family.

Access to weekly virtual meetings

Ask questions about the program, meet great Dads from around the world, and find the friendship and camaraderie you've been missing.

Lifetime access to the community

Once you're in the program you've got access to the Dads in the group for life. And once you've completed FFL you'll gain exclusive access to our DADHAB ELITE community.

A Satisfaction Guarantee

We know Dads have loved our program and they've seen results in their personal, family, and professional lives. That's why we offer a 30-day 100% satisfaction guarantee or your money back. We're confident that once you participate in the program you'll be a member for life.